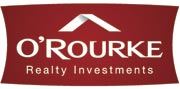 Community
reinvest
sponsor
---
Meet the agency
7 Agents:
4 sales representatives
3 property managers
---
About O'Rourke Realty Investments
O'Rourke Realty Investments is a family owned and operated company specialising in property sales, leasing and property investments.

O'Rourke Realty Investments are one of the most awarded real estate agents in the industry and still hold current records for the most sales in one day and the most sales in one month.

Our property management team are also award winners. You may have seen our little red cars driven around the place by our property management team. Unlike most real estate companies, we have a senior property manager for each of our management clients, rather than one senior manager overseeing a number of junior property managers.

We also have a full time accounts manager and assistants to our property managers, all of this takes away our clients' worries, such as bad tenants, vacancies and damage to their investment property.

You may have heard that we also offer appointments where we show people how and why to invest in Real Estate. The appointments are free of charge. During the appointment we can show you what property investment will do for reducing tax and increasing wealth without affecting lifestyles and cash flows.

Many of the properties in the areas we specialise in, are potential development sites. We have taken pride in the fact we are experienced in development projects and are able to guide our clients to a better development experience by assisting them from start to finish. We begin by looking over plans and due to our vast experience in real estate we are able to make recommendations to increase future growth. We can even suggest the appropriate builder and of course rent out or sell the finished development.

We are a one stop property shop when it comes to your real estate needs, so give us a go.
---